Parents:
We have several events going on at the school over the next few weeks. Please check the website's calendar for these upcoming events and mark your calendar.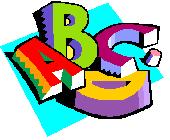 Attention Parents
Students attending Walter M. Kennedy received a packet this week for the 2013 - 2014 school year. Please complete the information and return to the school no later than May 10th. The provided information will help in your child's registration for the 2013 - 2014 school year.
Pell City Schools
Kindergarten Registration
for 2013 - 2014 School Year
Thank you to everyone that came out on April 30th to register your child for kindergarten.
If you were unable to attend, please continue to check back on the website for other dates during the summer for kindergarten registration.
When you do come, please make sure to bring the following items with you to the school.
Kindergarten registration is for children who will be 5 years old by September 1, 2013.
If you have any questions, please call the school.
2. Child's birth certificate
3. Child's Social Security Card
4. Alabama Blue Immunization Card
5. Parent/Guardian's Driver's License
(Must be a Power or Water Bill in Parent/Guardian's Name)
7. Custody papers/court documents (if applicable)
8. List of contacts including names, addresses, and phone numbers.